Last week, when I received my colourful  package from Alchemy Cordial it was all sunny and hot in Brisbane. Perfect conditions to make tons of popsicles, so I started straight away!
At first, my ideas were very basic – water + few spoons of cordial. And then it started. I had more and more ideas what I can mix together and I just couldn't stop. That was a perfect treat for hot summer days.
I decided to give them a try
Some time ago, on a market, I bought a big bottle of vanilla syrup. That was a really good choice and I'm using it every few days, when I want to have my coffee more flavoursome.
I received a summer pack (cordials + popsicle mold) from them. That was a great opportunity for me to try every flavour. I have my favourites now and a lot of ideas how to use them in some different ways. So stay tuned!

Flavours
Love – rose petal & lime
Dewdrops – melon, lime & bitters
Heat – lemon & chilli – this is my least favourite, maybe because I'm not a big fan of chilli, it just tastes weird for me
Hula – pineapple & coconut
Mambo – mango & lime
They're all very refreshing, great with mineral or soda water as a drink or frozen. But what was the best discovery for me – mixing them with a Greek yoghurt and freezing with fruits was just an awesome idea! (when I mixed Hula with yoghurt, I ate a whole cup before even trying to freeze it

)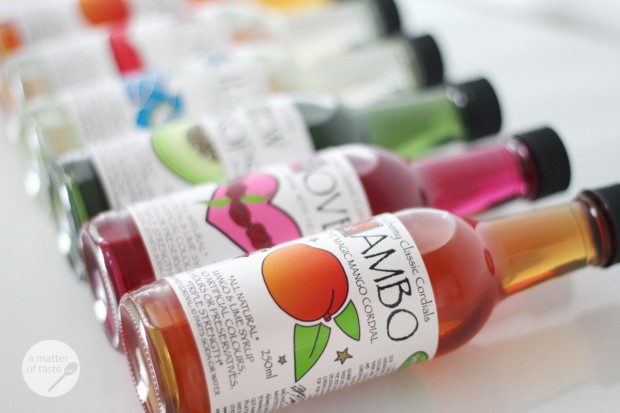 Some of my favourite (so far) popsicle combinations:
1) Blended watermelon with a few drops of Heat 
2) Simple one: water + Mambo
3) Greek yoghurt + Dew Drops cordial and layer of blended watermelon
4) Greek yoghurt + Hula + pineapple chunks (this one I couldn't stop to eat, and gave me an idea for a cake, I'll try to make it)
5) Greek yoghurt + Love + few blueberries
GIVEAWAY!
Alchemy Cordial have a prize pack for one of my readers. You can win 1 x each of 750ml Classic Cordials (Dewdrops, Heat, Hula, Mambo, Love & Ole) plus one funky popsicle mold. If you're Australian Resident (you need to have an Australian postal address) enter below:
Other extras
If you want to order some goodies from Alchemy Cordial, make sure you use a special discount code. It will give you 20% off  on Classic Cordials, Coffee Syrups and Frappulicious Granita. All you have to do is enter the promotional code BLOGGERDISC at the checkout when you purchase these products online